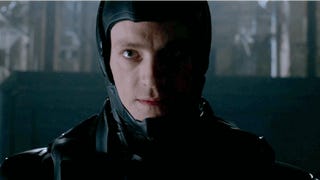 You've seen glimpses of (and read about) the new RoboCop movie, but we've yet to suss out exactly what this remake of Paul Verhoeven's classic 1987 picture will retain from the original. What does the new RoboCop stand for? According to our interview with the director José Padilha, drone warfare.
We've been pretty excited for the RoboCop remake, especially with the recent casting of Michael K. Williams, who joins the already stellar cast of Gary Oldman, Samuel L. Jackson, Hugh Laurie, and Jackie Earle Haley. But an early leaked script of the Jose Padilha movie has cast a very dark shadow over this production.…
It's been a very good year for Detroit's crime-fighting cyborg. You've seen the RoboCop statue plans and heard Peter Weller address the robo-statue naysayers. Now it looks like the RoboCop remake from MGM is finally going forward.