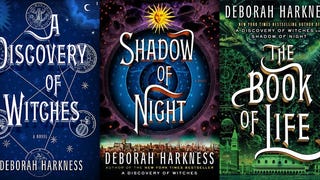 Twelve years ago, Jane Tranter (former controller for BBC Drama) and producer Julie Gardner were fundamental in the revival of Doctor Who. Now, the two have formed a production group, and they're turning to the supernatural books of Deborah Harkness for their first show: A Discovery of Witches.
Thanks to pop culture, nowadays, when you think about archiving immortality, it's as simple as taking a vampire bite to the neck, however, Intruders takes a very different approach to living forever. The upcoming BBC America show features a secret society that tries to continue on "by seeking refuge in the bodies of…
We've already wondered whether Torchwood could possibly top its world-crashing "Children Of Earth" miniseries in 2010, and we're also dead curious about the rumored Doctor Who movie. So we asked the BBC's Julie Gardner what's in store for both institutions.
The woman behind Life on Mars and the revival of Doctor Who is about to bring her style of television to the US. Julie Gardner is coming to America, and we couldn't be happier.
Okay, so we may not have believed those rumors about Doctor Who specials taking place in America with an American cast and crew when we first heard about them, but that was before news came that the BBC is moving to America... with some very Who-friendly faces in charge.News broke yesterday that the BBC is looking to…
The unsung hero of time-travel show Doctor Who and its spin-offs isn't K-9 the tin dog, it's executive producer Julie Gardner. She's kept the flashing light from flying off the top of the Police Box time machine since the beginning. We were lucky enough to sit down with her at Comic-Con and ask her about Doctor Who's…
The Doctor Who panel at Comic-Con debuted a much longer version of the trailer for the upcoming Christmas special, which included some dialog and a few tantalizing hints. And new showrunner Steven Moffat and executive producer Julie Gardner gave a few more ideas about how the show may look when Moffat takes over full…
Steven Moffat has written most of the best episodes of the re-launched version of Doctor Who, the BBC's action-adventure show about a time-traveling alien. And he's taking over as show-runner in 2010. We were lucky enough to get a one-on-one interview with Moffat about his vision for the show. And Moffat settled your…