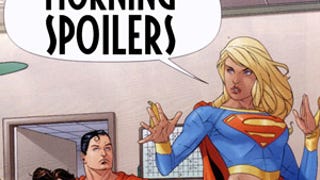 Do new Iron Man images have a secret message? What superpower will John Carter of Mars' villain have? How crazy Daybreakers' vampire-overrun future get? Which much-loved Supernatural character is back? Discover the answers! Plus Doctor Who/Chuck/Caprica videos, and Lost spoilers.
Before Fringe introduced millions to the idea of Parallel Earths, DC's superheroes were hopping to Earth-2 and beyond on an annual basis. Justice League: Crisis On Two Earths returns us to those heady days. Click through for the new trailer.
The rumored Superman director drops a shocking hint about Metropolis, and James Cameron's producer talks Avatar 2. Glee's Jane Lynch talks Paul. Even more Lost characters come back. Plus Justice League: Crisis On Two Earths, Fringe, FlashForward and Stargate spoilers!