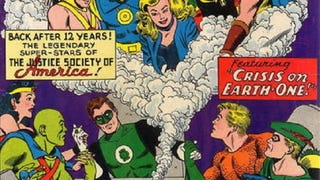 So last time, we examined the crossovers in the Golden Age between National Comics and All-American Comics before they were merged to create, essentially, DC Comics. (They wouldn't officially call themselves "DC Comics" until 1977. Before that, they would brand their comics as "A Superman DC Production" or simply "A…
With only a week left, the CW is getting their trailer money out of Smallville: Absolute Justice, the Justice Society-gueststarring two hour movie. Click through for the final trailer, complete with glimpses of the team in action. [Entertainment Weekly]
Want to see some more hints about television's Justice Society? DC Comics' blog has an exclusive clip from Smallville's "Absolute Justice" episode, as well as writer Geoff Johns promising "more cameos and easter eggs than Green Lanterns." [The Source]
It's enough to warrant a "TV Movie Event" and a special subtitle, but does the appearance of Smallville's Justice Society of America actually look good? Click through and judge for yourself.
Fittingly, perhaps, for our book and comic theme week, there's a lot to buy in comic stores tomorrow. Whether you're looking for zombies, space opera, superheroes, detectives or even just a new Dr. Horrible, there's something here for you.
What is going on over at Smallville? Yesterday, Geoff Johns - who'll be writing an episode of the show's ninth season - teased this pic and added "Had an amazing week at Smallville! JLA vs. JSA!!" Interesting... [Twitter]
Fables writers Bill Willingham and Matt Sturges's run on Justice Society of America is about to get a whole lot bigger, as the book will be splitting in two to tackle the team's gargantuan roster.
Even though the entire industry spent the last week sunning themselves (and by "sunning themselves," I mean, "slowly roasting themselves in large windowless rooms talking to nerds like me"), your local comic book store will still find itself with a full selection of brand new books tomorrow as regular as clockwork.…
Despite what many of you merry perverts may think, it's not all musclemen in tights and axe-wielding schoolgirls in short skirts in comicbookland. Although, to be fair, both of those categories are represented in this Wednesday's comic shops, as the pre-Summer lull gets filled with reprints and all manner of plot…