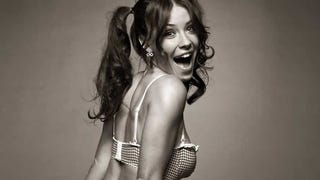 After the recent rumors about Evangeline Lilly leaving ABC's time-tossed island drama Lost and auditioning for fall pilots, the actress herself has spoken about the situation. Short version: Kate's back on the island to stay.
Sony Ericsson's upcoming C510 (Kate) Cybershot phone has been floating around for a while now, but these images from Daily Mobile represent the first decent look at it.
Showrunners Damon Lindelof and Carlton Cuse have outlined the end of Lost all the way through season six, and it sounds like you might want to check out Watching Paint Dry on the DIY Channel instead. Learn how Lost ends, after the jump.
Tomboy Kate morphs into wimpy womanhood in one of Lost's most annoying moments. Yesterday we paid tribute to our favorite moments from the show, but now it's time to tear into the most disappointing, annoying and/or simply wrong moments. Bad omen: the worst of Lost is almost all related to season 3.
It's t-minus six days until Lost comes back on the air. There will be a real, actual, honest-to-goodness scripted real show on next Thursday. Above is one minute and fifteen seconds from the new episode, and more below. All told, we've shaved six minutes off your viewing time next week. Suffice it to say there are…

Lost finally returns to television on January 31st, and if you haven't seen the show or are in need of a refresher course in the form of a slap in the face, then check out the above video where you'll be treated to a recap of the entire show so far in 8 minutes and 15 seconds. Get it?
I'm not going to lie and say this isn't really just a boring cable-laying robot, but the entire system is pretty cool. You've got this snake-machine with on-board cable stays that moves through live, but clean, sewer pipes. Every meter or so, it releases a spring-loaded ring and then another robot comes by to place…