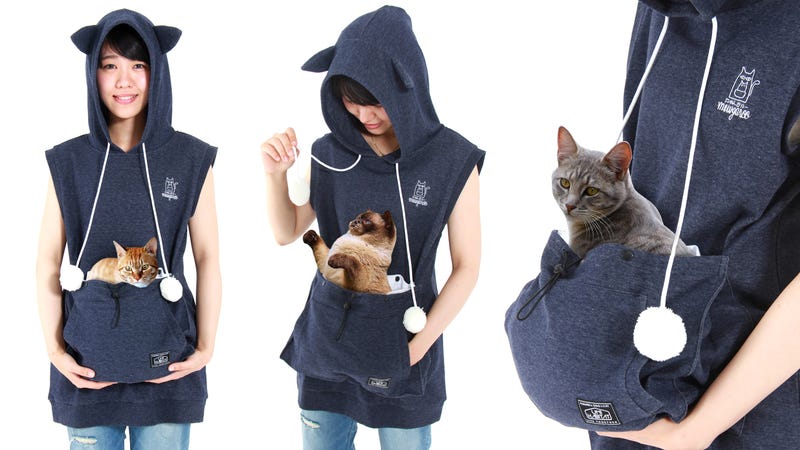 Inspired by marsupials like kangaroos, Unihabitat's new Summer Mewgaroo Hoodie comes with an oversized pocket on the front and dangling pom-poms for entertaining a kitty. It's sure to take you one dangerous step closer to becoming the crazy cat person you're always mocking.
Last year we debunked dozens of fake photos on the internet. So you might be wondering how 2016 might stack up in terms of volume. Well, it's only January and this enormous fake-photo Xerox machine we like to call "the internet" shows no signs of depleting its pixelated toner anytime soon.
Male kangaroos and wallabies, like a lot of seemingly quiet grazing animals, get into knock-down drag-out fights over females. They obviously don't have antlers or horns to spar with, but they're perfectly willing to grapple rivals with their forelimbs and kick the crap out of each other with their big hind feet.
Animals are definitely sending us a message that they value their privacy. First we had a hawk smack a drone out of the sky. And now a kangaroo has delivered a knockout punch against a hovering intruder.
For millions of years there lived a rather large species of kangaroo in Australia called sthenurines. Weighing in at 550 pounds and featuring a 6'6" frame, these Pleistocene creatures must have been an awesome site — an animal made all the more remarkable by virtue of the fact that they walked around on their feet…
Here's a little fun fact for your next Australia-themed dinner party: female marsupials all have three vaginas. That includes kangaroos, koalas, quokkas, and those cube-pooping wombats.
Yesterday, Festo unveiled a bird-inspired wind turbine, but today, the company has unveiled a new robotic creation that's a little more recognizable. The world may not have a huge need for a bionic kangaroo—outside of Australian-themed amusement parks—but emulating the marsupial could result in robots with remarkably…
I have absolutely no clue who YouTube user 4u2roos is, but his or her channel — which is filmed at the Exotic Experience in Orlando — is brimming with videos of lemurs, dogs, kangaroos, tiny deer, and small horses acting adorable, usually in concert.