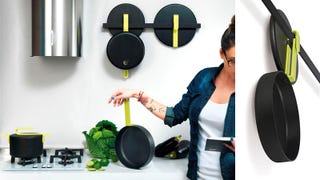 When tackling products designed for use in the kitchen, designers tend to make every effort to perfectly balance form with function. And Karim Rashid's done exactly that with his new Hook cookware collection featuring built-in hooks for hanging/displaying your pots and pans on the wall.
Thanks to their lay-flat design, these Japanese stainless steel scissors wouldn't be the first pair you'd grab in a cutting-emergency. They are suitable for both lefties and righties, though, and cost just $25. Not bad for a designer cut. [Slice via The Green Head via OhGizmo]
From the hands of renowned designer Karim Rashid comes this "space time" lamp that certainly has a case of the je ne sais alién. Unfortunately for us, it'll be sold exclusively through Swedish retailer Zero. Bah humbug. [DesignBoom]
It's not ordinary Eee PC. Big freggin' spoiler guys...so you may want to stop reading...IT'S PINK!
Designer Karim Rashid has a knack for off-the-wall designs, so I wasn't surprised to see his name attached to the Iamo Go baby bottle concept. This somewhat phallic-shaped bottle is supposed to heat milk to body temperature without using electricity.
Olive Media teamed up with designer Karim Rashid (the guy with the glasses who's in those Dirt Devil commercials) to release a series of OPUS Nº5 music players with four different psychedelic graphic designs. According to Rashid, the inspiration for his designs came from music itself (we're guessing music from the…
Here's a design concept for a flash memory-based media player by design heavyweight Kareem Rashid. The player takes a curvaceous form which sits balanced like a rocking chair when viewing the screen in landscape mode, or it can stand up on end for vertical viewing. Turn it upside down and you see a blue LED clock…