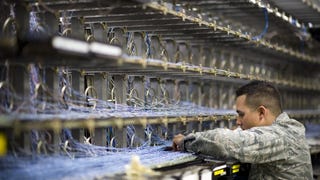 Officials at Creech Air Force Base in Nevada knew for two weeks about a virus infecting the drone "cockpits" there. But they kept the information about the infection to themselves - leaving the unit that's supposed to serve as the Air Force's cybersecurity specialists in the dark. The network defenders at the 24th Air…
Wired's Danger Room has learned that a computer virus has infected the United States' Predator and Reaper drones. The virus is a keylogger that keeps track of every pilots' keystroke as they perform missions over Afghanistan and other locations.
The team at Remote-Exploit.org are currently working on an open source hardware/software sniffer project that allows you to decode Microsoft wireless keyboards (and Logitech boards in the near future).
Want to know what kind of fetish websites your roommate likes? Or prefer to monitor some chat rooms of your kids? Do it with a keylogger. And now you can build one yourself. All it takes it a little a lot of electronic know how. Gizmodo does not condone the usage of a keylogger and it may also be illegal to use in…