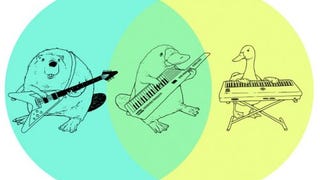 With the imminent release Rock Band 3, keytars have been on my mind a lot lately. Then again, when are they not? Anyway, here's the world's all-time greatest keytar-platypus Venn diagram to get you through the weekend.
The keyboard accessory we were looking forward to in Rock Band 3 is supposedly actually a KEYTAR. Good, I suppose, for mobility and rockitude, but not for learning how to actually play the keybo...oh god I've become an old man. [Ars Technica]
Mike Cook made this awesome homemade MIDI instrument using an Arduino microprocessor mated to a host of motion- and touch-sensitive control structures, all residing in this fantastic Keytar-esque shell. Does it rock?
Keytars! Not just the tools of '80s bands and '80s revival bands, they're slip-covers for your keys to differentiate them from each other. Our buddies at Gama-Go made these wonderful things for just $6 each. Instead of having to look closely to see which key is slightly shorter or fatter than the other (difficult when…