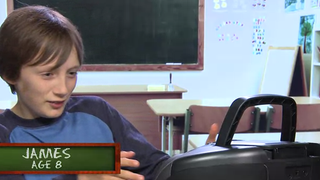 Present kids with old tech and see how they react—it's an old trick we've seen YouTube'd to death. But just when you thought there was nothing left to squeeze out of it, the gag done got Clickholed. See kids react to a Boombox (with a recording of their parents fighting). Just watch. It's perfect.
Children growing up today can't remember a world without computers. Typewriters, once ubiquitous in offices and considered the cutting-edge way to write, are now more of a quaint relic than an actual tool... which means they're perfect fodder for the latest installment of the Fine Brothers' "Kids React" series.
It's hard to know which specific emotion this video of kids reacting to old computers from the late 1970s and early 1980s evokes. The feeling is somewhere between sheer delight (how cute are they?!) and utter horror (how old am I?!) Either way, it's worth it.
Originally marketed in 1979, the first Sony Walkman turns 35 this year, and it's about as outmoded as a technology can be these days. That's why it's understandable that the kids in this delightful video, none of whom were alive in the 90s, have no idea how to use the thing. Or what it's for. They can't even conceive…