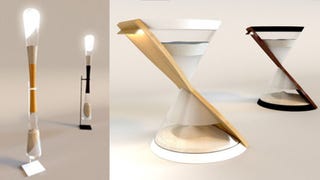 LED lightbulbs are already energy efficient, but they would be even better if they could emit light without connecting to the grid at all. Brooklyn-based designer Danielle Trofe is trying to make that happen.
The acrobatics in this video are just insane. Insane enough to make you question the laws of physics, really. I mean, could these trampolines really be conserving so much energy as to allow Christophe Hamel (he's the one soaring all over the place) to return to what appears to be the same altitude after basically…
We were teased with a shot of the kinetically-powered Ulysse Nardin Chairman smartphone earlier this month, but now the wraps are off—and what we are left with is truly one unique device.
This isn't the first time we have seen a cellphone charger that is powered by kinetic energy, but the difference is that M2E is working on a charger that can produce 300 to 700% more juice than current technologies. They hope this will translate into a full-on replacement for cellphone batteries somewhere down the…
Adrienne So over at Slate has used her natural gifts to come up with the most genius idea yet: an energy-generating bra. Instead of just holding her boobs in place and dispelling that excess kinetic energy into, I don't know, heat, why not use it to power a gadget? According to a breast specialist, a D-cup in a lousy…
Terry Kenney's Dragon Power Station prototype works by harnessing the kinetic energy of trucks passing over plates buried in the road and turning that energy into electricity. The system he's got set up now in the Port of Oakland, with 2,500 trucks passing over it in a day, is enough to power 1,750 homes. It's a very…
Photographers interested in taking endless shots of themselves with their arms outstretched will surely love this flying stick camera concept from designer Tsunho Wang. Just "rub the stick" between your palms and use the built up energy to send the camera whizzing into the air. Once airborne, the camera will…