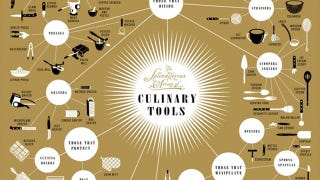 Not only do I not own the vast majority of these 100+ culinary tools, I don't even know what I'd do with them if I did. Fortunately, this splendiferous (their word) display is up for sale over at Pop Chart Lab.
Your most powerful cooking multitool is probably abandoned underneath your counter. Maybe you dust if off sometimes, maybe you don't. But the next time you prep dinner, take a moment to reconsider the food processor.
This isn't just for the laydees of Gizmodo. Men make sauces too! And with a name like "Autonomous Saucier," it's practically using robot technology, right? The little sauce-stirrer has stainless steel legs and with speeds for perpetual standing-upright whizzing.