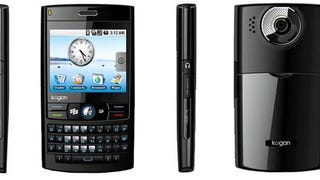 Well shoot—the Kogan Agora, widely believed to become the next Android Handset (as well as Australia's first), is now delayed indefinitely. The reason: potential future compatibility issues with the smartphone's screen.
Response is snappy, which could be down to the Agora's hardware or the as-of-yet uncertain scalability of Android. The interface seems to work fine on this differently shaped screen, and the hybrid touch/keyboard navigation, partially explored with the G1 but more fully realized here, is a natural fit for the OS.
Just days before its CES debut, the Kogan Agora Pro Android phone has been captured in the wild for the first time with a standard array of blurry photographs.
There are a few things missing here, as the data connection and on-screen keyboard don't seem to be functioning for the time being. This makes checking out some of Android's most important functions sort of difficult, but in the context of a disappointing and complete dearth of new Android hardware since the G1, it's…
The Kogan Agora Pro has popped up in Australia as the latest Android handset and is available for international pre-order. The phone has a 2.5-inch resistive touchscreen, QWERTY keyboard, 3G and GPS for $399.