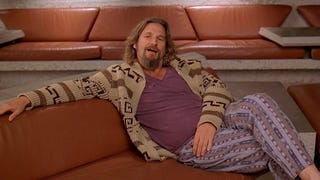 For design nerds, the Sheats-Goldstein residence is well-known as one of the most triumphant works of renowned architect John Lautner. For hard-core basketball fans, it's the home of James Goldstein, the flamboyant courtside fixture at Laker games. And for everybody else, it's known as Jackie Treehorn's house.
Last month, Swiss architect Peter Zumthor revised the design for a new building on L.A.'s Los Angeles County Museum of Art campus after scientists claimed his proposal would damage the adjacent La Brea Tar Pits. Now he's revealed the first model of the new design: an ink blot that spans Wilshire Boulevard.
The Internet is jam-packed with images for the taking, but thanks to pesky copyrights, you aren't allowed to use most of them. The Los Angeles Community Museum of Art just put a bunch in the pile you can use, Twenty thousand, to be exact.
How does one move 680,000 pounds of solid granite from a quarry in Riverside county, through some of the busiest streets in the country, to the grounds of the Los Angeles County Museum of Art? This mammoth trailer is certainly a start.