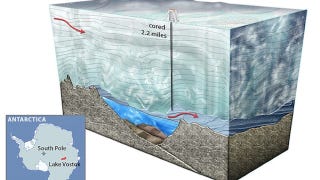 For the past several weeks we've been anxiously awaiting news from the Russian research team that recently drilled into Lake Vostok, a massive body of water that's located about 2 miles below the Antarctic surface — and possibly cut off from the world for millions of years. Now, according to Russian news site RIA…
Earlier this month, a team of Russian scientists finally drilled down into Lake Vostok. Everyone was incredibly excited but, how deep can a lake really be, right? Um, it turns out very, very deep, and this visualization lends some perspective.
Buried over two miles beneath the East Antarctic Ice sheet lurks Lake Vostok — an isolated body of subglacial water, removed from the rest of the world for more than twenty million years. Now, Russian researchers are just a few meters of ice away from entering an environment unlike any we've ever seen... at least, not…
An oxygen-rich lake, unreachable for the past 14 million years and buried beneath a thick sheet of ice, is about to be penetrated by a drill bit from a faraway place.