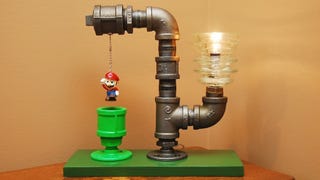 There is no way my parents could have known what a world of pain they were dropping me in by simply giving me the name Mario. It was 1984, and Mario was my dad's name. THEY COULD NOT HAVE KNOWN WHAT WOULD HAPPEN. But now all the Super Mario/Where's Luigi/ItsAMe/Wario jokes I've ever been the butt of are worth it…
Dutch furniture designer Wieki Somers is based in Rotterdam—but for her latest collection of bizarre lamps, she travelled east, to the land of the rising sun, where she found inspiration in the form of Samurai flags, Geisha culture, and traditional Japanese gardening techniques.
The Construction Lamp looks like oil derricks you see dotting the landscape in parts of Texas. Their industrial aesthetic is the result of the designer Joost van Bleiswijk playing with the nuts, bolts, and tools in his workshop as though he was still a kid.