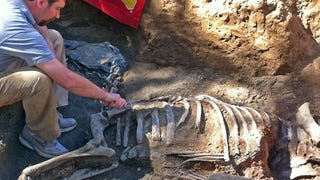 A group of USC archaeologists received an unusual request. Their services would be required to dig up several large mammals—but not the Ice Age fossils that dot the L.A. landscape. They needed to unearth three horses buried under a racetrack.
The only color in the landscape for miles, Salvation Mountain looms like a mirage on the horizon. The three-story, three-decade work of artist Leonard Knight, who died yesterday at the age of 82, is a piece of brightly painted, hand-sculpted California desert, like an impossibly scaled cathedral made from Play-Doh.
Guelph Park in East Vancouver was just like any other under-appreciated park in a city near you: grassy but forgettable. Until a fake sign was erected in one corner by a local artist, christening it with a new name: "Dude Chilling Park." Suddenly, Guelph/Dude Chilling Park became a global sensation.
When we asked you last week to send us the weirdest monuments in your neighborhood, you not only delivered, you quite frankly freaked us out. How do you people sleep at night knowing that a giant turtle-humping statue is just down the street?
On these frigid days, it helps to think about a place like Antarctica, which was recently determined to be without a doubt the coldest place on Earth (as if anyone was really surprised?). But it's also home to unique historic monuments befitting the treacherous environment that include 100-year-old huts, industrial…
The Los Angeles City Council ruled last week to give landmark status to Johnie's Coffee Shop, a blue-and-white striped diner in the city's Miracle Mile district. Opened in 1956, the building's dramatic angles and flashy neon made it a darling of L.A.'s newly car-centered culture.