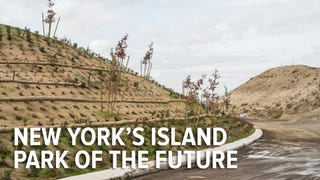 Parks aren't always built just so we can enjoy the trees. On Governor's Island in New York City, a truly unique public space will bring nature back to a former military base–and it's engineered to withstand the catastrophic storms that climate change will bring. It's called The Hills, and in this documentary, we talk…
You've probably heard of the Stanley Hotel. This century-old landmark in Estes Park, Colorado is the spooky spot that inspired Stephen King to write The Shining after he and his wife stayed there*. Now, you can design a giant hedge maze—inspired by the giant hedge maze in The Shining—on the Stanley Hotel grounds.
If you could build your own High Line, what would it look like? That's the question the QueensWay Project, an effort to turn an abandoned stretch of railway in Queens into an elevated pedestrian and bike path, recently asked designers to answer. Some of the winners announced today are truly wild.