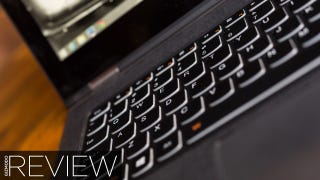 Two years ago, Windows 8 birthed what feels like a thousand different varieties of twisting, bending, hybrid laptops. In the vast army of oddities, only a few stood out as being actually good. Of those select few, the Lenovo Yoga was our favorite. Now it's back with a refresh, and it's better than ever.
For a while now, ultraportables have been the only class of laptop that really matters. Sure, you can find more powerful machines for less money. But the mix of portability, speed, and beauty—along with the miniature muscle of Intel's Ivy Bridge chips—has made ultrabooks the best laptops to own for almost all of us.
The Samsung Series 9 was one of the best Windows ultraportable laptops last year. Even though it didn't quite keep up on specs or benchmarks with some of the top-end machines, it was the most usable of the bunch. This year, as ultrabooks have made massive improvements over the past generation, the Series 9 remains one…
Like last year's update, the 2012 MacBook Air is entirely in the guts. The 2011 bump into present-day usability was enough to make it your Most Important Gadget of the Year. This year's update is more of the same—which is a actually good thing.
There's something fundamentally broken in the world of PC laptops: Machines designed nearly four years ago still provide the basic model for how to build one correctly today. The Razer Blade is, in some ways, one of the best Windows laptops I've used in a long time. But I can't decide if it's merely ironic or…
Yeah, we may headed to a post-PC existence—but we ain't there yet. The rise to prominence of Ultrabooks, though, brings the modern laptop closer to a tablet experience than a desktop. Their speed, portability, and tiny-but-not-a-piece-of-crap-netbook-ness have made them popular, but which is the one to own?