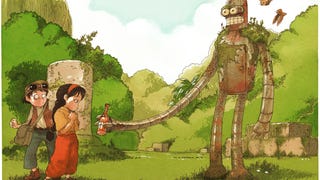 Amidst all of the Halloween horror, Bender lightens things up by playing a robot from Laputa: Castle In The Sky, although he offers his human friends something less appropriate (but tastier) than a flower. Illustration by cartoonist Boulet.
Pixiv user marlboro creates richly detailed portraits of the characters from Hayao Miyazaki's films. Each art nouveau-flavored illustration is packed with images and symbols from each movie.
When it comes to wild things in the woods, Max has nothing on Princess Mononoke. In this sweet mashup by Justin Hillgrove, the various spirits and creatures from Studio Ghibli's films pay tribute to San, the wildest of them all.
Andrew Michael Golden made it his mission to create photorealistic images of the odd and mystical characters from various Studio Ghibli films. I must say, Porco Rosso cuts a rather convincing-not to mention stately-figure. Over at his site, you can see Golden's attempts at Totoro, Princess Mononoke, Ponyo, and more.
While many people appreciate Hayao Miyazaki's ability to craft great stories, few realize the strange genre mashups he has constructed. With his latest, Ponyo, still in theaters, it's time to recognize the genre innovation of this visionary animator.