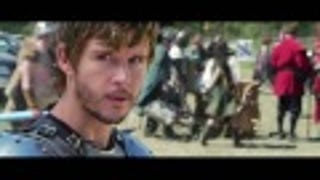 While there still isn't a realease date for the exceptionally bloody movie Knights of Badassdom, we do have a brand new trailer. Could this mean there'll be actual news about this film soon? Everything we've seen from this movie looks hilarious, and wondrously gory. Even this trailer, which starts off fairly PG,…
You might run into this 12-meter-long dragon and have to do that cartwheel-legged, Scooby Doo run off the premises. This sculpture was constructed by Valve, a Finnish LARPing group who built (and left) it there last month. Between this and the Wizard Quest in Wisconsin, we have a good case for building more dragons in…
Peter Dinklage is not only one sexy Star Wars quoting minx, but allegedly in talks for Knights of Badassdom, a film about LARPers who awake a real demon. Dinklage would make a gorgeous Knight, we'll fight anyone who says otherwise.
Of course this indictment of LARPing in the USA is itself an exercise in role-playing. "Kalle" is Viennese performance artist Johannes Grenzfurthner, who loves to mix geek culture with bizarro art and strange scholarly endeavors.
At first, I misread the phenomenon as LARPing , the pastime for aspiring night elf mohawks. Now I've realized the acronym reads "LAPP."
I was lying there incapacitated in the geoscience lab, wounded by a creepy, clawed alien, when one of the suits from Corporate approached. "Got any ammo?" he said briskly. "No, sir." "Then gimme your gun." He yanked my ST-99 assault rifle from my hands, then set it on a nearby counter. The range light was still on,…
Okay, so it's not a gadget, but we're really impressed by this fantastic Stone Golem suit that players of the Mordavia LARP in New Zealand put together on the cheap: