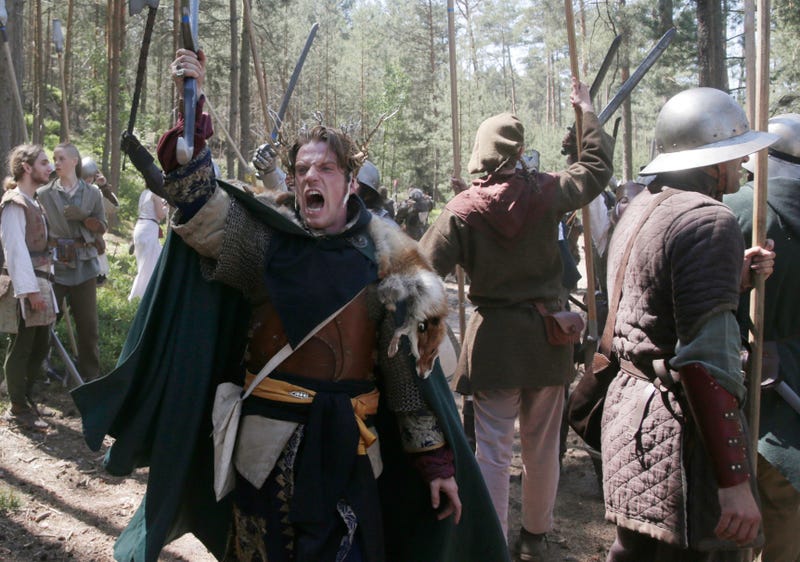 Several hundred Hobbit fans gathered in the woods near Dosky, Czech Republic, thirsty for the kind of blood-pumping joy that only fantasy combat can provide. Feast your eyes on more photos from the annual Battle of Five Armies reenactment below.
Still looking for that authentic Harry Potter experiences? Well get on your brooms and get your magical asses to Poland, because The Czocha College of Wizardry is as close to attending Hogwarts as you're ever going to get, and this trailer for the event is proof.
While America keeps trying to devise a more standard standardized test system, the Osterskov Efterskole in Hobro, Denmark, is busy using live-action role-playing to teach its students while they're having fun. I know, it sounds insane, but watch this documentary and tell me you don't wish you'd gone there for school
If you enjoy live-action role-playing, are a Battlestar Galactica fan, or regularly hear "All Along the Watchtower" in your head, you'd best start looking for plane tickets to Sweden immediately. In March of next year, the city of Gothenberg will be host to an absolutely insane LARP called The Monitor Celestra."…
You might run into this 12-meter-long dragon and have to do that cartwheel-legged, Scooby Doo run off the premises. This sculpture was constructed by Valve, a Finnish LARPing group who built (and left) it there last month. Between this and the Wizard Quest in Wisconsin, we have a good case for building more dragons in…
Peter Dinklage is not only one sexy Star Wars quoting minx, but allegedly in talks for Knights of Badassdom, a film about LARPers who awake a real demon. Dinklage would make a gorgeous Knight, we'll fight anyone who says otherwise.
A group of over 200 Russian role players enacted their own Fallout-style video game, offering a taste of how the nuclear apocalypse might look. Check out the gallery of their gameplay, complete with military encampments, radiation suits, and atomic zombies.