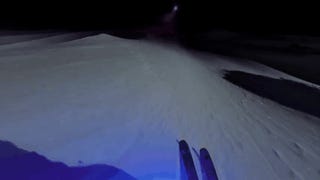 A few days ago, Sploid brought us a video of two skiers wrapped in LED light rope. The effect was extraordinarily weird and cool, and now GoPro has released the POV footage of the skiers themselves. Night skiing is always magical, but this goes beyond your average shadowy last run.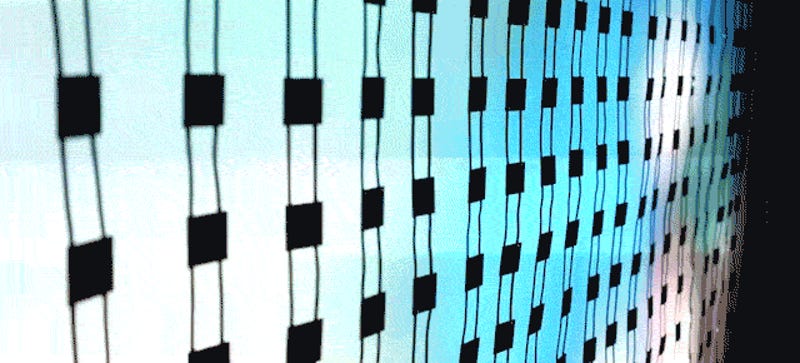 Artist Jim Campbell has made a career out of tinkering with LED arrays. His newest work, a series of glowing, undulating installations, are a playful mix of circuitry, motion, and pure light that will captivate any onlooker.
In south Japan, Mie prefecture is rocking 7 million LED Christmas lights. Hence the awesome light tunnel above. "Illuminations" or Christmas light displays have been a big deal in Japan since the 1980s. But there's something a lot more contemplative about these lights compared to some of the spectacles in the U.S..
It's not the solar panels we were looking at before, but these solar lights from Ikea look pretty darn nice. Plus, they're good for impressing men and women who don't shave regularly.
These simple Mobile Lights by Kyouei Design hang from the ceiling from fishing line to create a glowing kinetic sculpture with the size and shape of your choosing. Each piece is equipped with an LED, solar panel and AA battery backup, absorbing light during the day and emitting it at night. But what's more impressive…
It's almost Halloween again, and for those of you who have yet to try your hand at carving a badass pumpkin, check out Make Zine's video of a self-proclaimed "scariest pumpkin ever"—a simple looking pumpkin with not-so-simple insides. Looking at the project, it's apparent that aesthetics are not what is shocking…
Moritz Waldemeyer, London-based shiny, spangly design person, has designed what must be the most expensive pair of spoke lights evah. Auctioned off at the ICA Gala Fundraiser in London last week, the Joyrider LEDs, which put a smile on the wheels of your bike, went for almost $4,000. Perhaps that's because they came…
We're not entirely sure what you do on your camping trips, but we do know that this Spin Camping Light will get your disco jones into funky town no matter where you are. Tack this $15 sucka up in your tent and boogie the night away to its 60 LEDs. But be careful with that music selection—the bears may not have the…