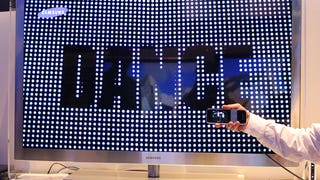 The brushed-aluminum LED-lit C9000 is not just the handsomest slender TV at the show, it comes with the most innovative Wi-Fi remote control—one that looks suspiciously like an iPhone and feels suspiciously like a Samsung phone.
Interesting factoid from the Samsung CES presser: Samsung is dominating LED TVs. They claim 80 percent marketshare in the US. Though with everybody selling them now, and for cheaper, that could change quick. [Samsung @ Giz]
Vizio's flagship XVT Pro 3D HDTVs way undercut the top-o-the-line LED TVs from the other guys: 480Hz, wireless HDMI, Wi-Fi, local-dimming LED backlight and 3D. The 72 inch set goes for $3500, cheaper than the 46-inchers from Sony or Samsung.
Teased a month ago with the SL80, LG's dropped price and release details on its prettiest LED TV, the "seamless" 1.15-inch thin (about two iPhones thick) SL90: $2100 for the 42-inch model, and $2700 for the 47-incher, out this fall.
Yeah, the 8500 series is Samsung's first set of LED-backlit LCDs with local dimming this year and has the Yahoo widget engine for streaming video, but all I really care about is that awesome looking blue stick holding it up.