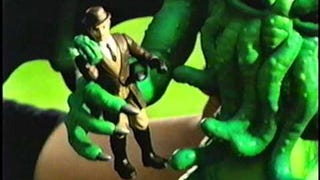 Last month, we brought you a first look at Warpo's cool, old-school advertising for its 12" Cthulhu action figure. Now the Great One is back, and this time he hungers for the minds of his action figure subordinates. Can Cthulhu be stopped? Find out in this exclusive look at a new TV spot!
When you're making a line of retro action figures, you might as well go whole hog and make your TV spots look suitably retro too—just as Warpo are doing for Legends of Cthulhu figures, and their upcoming gigantic Old One action figure. Let Cthulhu warm the nostaglic cockles of your heart with this exclusive first look!
Warpo's new line of Lovecraft-inspired action figures is a direct throwback to the era of blister packs, five points of articulation, and tiny plastic accessories. The creators talked to us about their dream of a Saturday morning animated series about Cthulhu, and showed off some killer concept art.