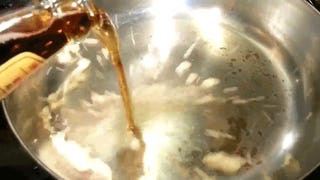 What happens when you pour beer onto a frying pan? It boils and evaporates, right? Not exactly. The beer sort of turns into this goopy blob that looks like some alien amoeba. Look at it go and tell me you're not going to do this the next time you're drunk (don't do this while you're drunk).
When a drop of water hits a hot enough pan, it doesn't instantly boil away. Instead, the drop's outer layer vaporizes, producing an insulating effect that causes it to skitter across the hot surface. This is known as the Leidenfrost effect, and it can be harnessed for some neat tricks, like the Mythbusters being able…
We've seen water seem to travel uphill in gravity hills. That was an illusion, but physics has found a way to make water zip up some tiny stairs like it's Rocky in a training montage, using the much-beloved Leidenfrost Effect.
File this under don't try at home, but there is a safe and painless way to dip your hand into liquid nitrogen. The secret? The Leidenfrost effect, which briefly shields your hand from -320° temps with a layer of bubbles.