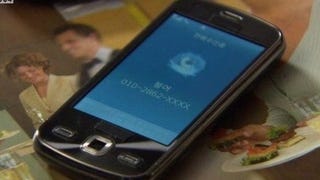 As we become more aware of the various viscera inside our gadgets, otherwise unremarkable gadgets seem suddenly... strange. Take the LG Arena Max LU9400: It's almost definitely a feature phone, but it's got the spec sheet of a Nexus One.
Since seeing the promo videos for the LG BL40 candybar, I've had a hankering to play around with it. The software is impressive, the 21:9 touchscreen display lickable, and it'll be out over the next few months.
Check your sets, LG people: the Vudu widget, which lets you buy 1080p films for instant streaming without any kind of subscription, has been quietly pushed out into the world.
All I can think about when watching this hands-on video with LG's super-long BL40 Chocolate touchscreen phone is that we've been using the phrase "candybar phone" way too loosely for the last few years.
Short of price, release date and carrier(s), there's not a whole lot that hasn't been leaked about LG's comically long next generation Chocolate, the BL40. But somehow, these first official shots are still enticing. I mean, look at it.
Don't get me wrong: the announcement that LG's connected HDTVs are getting Vudu streaming—especially instant-on 1080p HDX movies—is a good thing. It's just that we got a few minutes with the service, and, well, something's a little... off.
Adding to an already impressive list of services available on their web-connected HDTVs, LG has yanked Vudu into the fold. What this means: instant 1080p movie streaming. Also, that standalone set-top streaming boxes might finally die, as they should.
Sure enough, that mysterious baby brick sitting next to the stretched-out BL40 is a direct followup to the last generation of LG Chocolates, called the BL42. The 3G slider is rumored to have a 240x320 display and a 5-megapixel camera.
You can forget the teasers, promotional videos, and info leaks, because this is the real thing: Live, in-the-flesh shots of LG's Chocolate BL40 phone. We knew it was long, but this handset looks like it's been literally stretched.
Well, there goes the rest of LG's annoyingly gradual tease campaign: the next generation LG Chocolate BL40, with a 4-inch, 800x344 (21:9!), multitouch screen has been revealed in full in a leaked promotional video.
According to Korean outlet 47News, an LG VP has indicated that the company, barring any drastic change in sales or costs, might just stop producing plasma TVs. UPDATE:
In a classic more=betterer move, LG is planning to top their current 240Hz sets (and Sony's wonderfully advertised 200Hz Bravias) with an otherwise mysterious 480Hz LCD television.