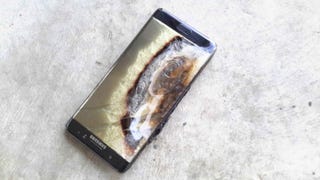 Lithium-ion batteries are currently one of the biggest problems in the tech world. The ubiquitous power source has an annoying tendency to burst into flames. But researchers at Stanford University believe they may have found a solution with a built-in flame retardant that doesn't harm the battery's performance.
Last month, Gizmodo told you about the time a Boosted Board "tried to kill" one of our writers. Now, it turns out, the electric longboards might even be dangerous for people with excellent coordination.

Lithium-ion batteries! They're in your phone, your laptop and pretty much every consumer electronic device that uses rechargeable batteries these days. How should you take care of them? Old wives tales of charging batteries don't apply here, so forget everything you thought you knew. According to Ars Technica, this is…
A new "intelligent" lithium-ion battery is supposed to prevent explosions and fire accidents by sending constant updates on its own health. Developed by researchers at NTT DoCoMo, the battery uses a 8-bit microcomputer "brain" to monitor its condition and relay the information to the cellphone user.