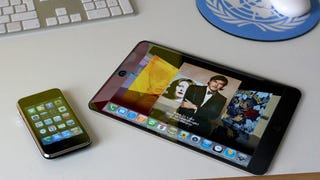 Even though the existence and announcement of the Apple Tablet is pretty much a lock for January 27, we still don't know much about specs or capabilities. But it might do gaming at least decently.
Steve Jobs said people don't read any more. But Apple is in talks with several media companies rooted in print, negotiating content for a "new device." And they're not just going for e-books and mags. They're aiming to redefine print.
7:39 am ON Jan 15 2008
Jason Chen: Gizmodo Live at Macworld 2008 Keynote. The keynote starts Tuesday, January 15 @ 9:00 AM PST (12:00 PM EST), but we're going to start liveblogging hours before that, giving you color commentary on the area, the attendees, and any secrets we can glean from uncovered banners.