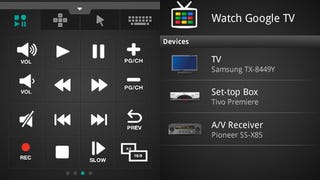 Logitech Revue, the first Google TV box, is trickling into living rooms nationwide this week, and now the system's companion remote app is available in the Android Market. Great, now losing your TV remote means losing your phone, too. [AppBrain]
Logitech's Harmony remotes are among the most acclaimed, most popular programmable remotes in the industry. But in a forward-looking move, Logitech is turning Harmony into a free iPhone/iPod/Android app to work with their Google TV companion box.
Only a certain type of person is willing to drop $400 on a remote control, but those people are going to be excited about the new Logitech Harmony 900.
Logitech just spilled an upcoming adapter that'll let you use any Harmony remote with the PS3. Not many details (price/date), but it'll do the usual Harmony magic and won't swallow a USB port. [Blogitech]
All Giz Wants isn't about wanting what we have now. It's about wanting what we should have now, what's technically possible but practically improbable. Here's an item I've been (wet) dreaming about for some time—a universal remote that's really universal. I don't mean to control both a Blu-ray player and an HD DVD…