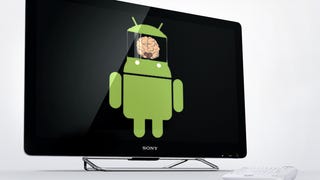 It seems like everyone wants to get into your living room this year. Most companies are invading with media streamers, but Google wants to sneak an actual computer in there. It's an Android for your TV.
The early word on Google TV is that it's kinda messy! So's the inside of the Logitech Revue, which is basically a netbook on a motherboard, complete with a 1.2GHz Atom processor.
Logitech Revue, the first Google TV box, is trickling into living rooms nationwide this week, and now the system's companion remote app is available in the Android Market. Great, now losing your TV remote means losing your phone, too. [AppBrain]
We're at an event demoing the final version of Logitech's Google TV box, the Revue. Lo and behold, there's a webcam on top of the TV, and an app called Logitech Vid HD. Cisco's Umi looks even dumber now.
The official Google TV page is live and it's quite pretty. Take the tour and remind yourself of all the swanky stuff it can do (and try not to take your frustration out on your dumb old TV in the meantime.) [Google TV - Thanks Adam!]
We've known that the Logitech Revue will be the first Google TV box, and now an Engadget tipster has spilled the all-important when and how much: Revue's supposedly coming September 29 for $299. Unless you're a Dish Network subscriber.
You know those commercials that leave you totally mystified, like "how did this possibly get created?" This Logitech Revue promo video, in which a hairy-legged, Peeping Tom TV set creeps up on a teenage girl in bed, is like that.