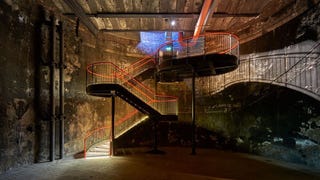 The first underwater tunnel ever built opened in London in 1843, paving a path for cities everywhere to expand beneath rivers and oceans. Today, the tunnel's grand entrance hall reopens to the public for the first time in 147 years. The underground event space is part of an engineering museum that celebrates the…
London has the oldest subway system in the world: great for tourism, but sometimes not-so-great for commuters. There's all sorts of sensible plans to upgrade the city's public transport, but here's one particularly outside-the-box solution: a 15mph moving sidewalk, looping 17 miles under London. What could go wrong!
The London Underground secured a place in the pantheon of good graphic design with engineer Harry Beck's topologic Tube Map from 1933. In addition to that icon, however, the transit system has a pretty substantial history of bringing top-notch visuals to the subterranean masses; posters promoting everything from the…
What will London look like at mid-century? According to this futuristic London Underground map, it will be full of geothermal plants and algae factories that double as housing towers. Plus Tripods and giant mushrooms. We've got the full map below.
In order to prove how far Sony has come since ATRAC3 and long-playing MiniDiscs, a new ad attributed to the company shows a NYC subway map traced in its entirety by black Sony earphones, accompanied by a Network Walkman. As if it wasn't enough to try to retake ownership of just one iPod-saturated public transit…