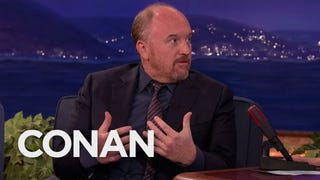 Louis CK has a long, complex and hilarious history of interacting with modern technology. But now he's decided to quit the internet.
Louis C.K.'s daughters won't be getting cell phones anytime soon, because the famous dad/funnyman explains as only he can, phones take away his kids' ability to just feel sadness.
Louis CK, noted technology philosopher and independent funnyman, recently gave his thoughts about the iPhone and "the cloud" and it's just as funny as you'd think. On the iPhone, Louis CK says it's like having "a pencil that can suck your dick".
Instead of going cable, as usual, Louis CK sold his new show for $5 a pop on the web, streamed live from the Beacon Theater, free of DRM or regional restrictions. Ballsy? It worked: the public paid him $1 million.
Louis C.K. may have a deep appreciation for cell phones and what they're capable of, but that doesn't mean he has to like them. In fact, if this clip from Thursday night's Conan is any indication, he absolutely hates them. And he makes some damn good points as to why.
Later in his new stand-up special "Hilarious" Louis C.K. berates people who use words like "genius" too lightly. Louis C.K. is a genius. Be warned: Salty Language. You can watch "Hilarious" online in its entirety on [Epix]