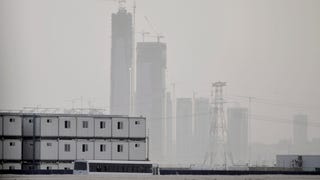 The Guggenheim. The Louvre. NYU. All have signed on to build outposts on an island off the coast of Abu Dhabi. And according to a new report from Human Rights Watch today, the development where these institutions will be located is being built with forced labor.
The sliding point where cameraphones and point-and-shoot cameras seems to keep moving towards the latter. The latest hybrid is the 720p, 12-megapixel LG GC990 Louvre, which, at least from the back, actually looks like a camera.
BGR is reporting today that the well-known AMOLED-equipped Samsung Omnia Pro might be linked to the recently unearthed "Louvre B7610." By the way, "linked" in this case means "the exact same thing."
The Gioconda will be surrounded by fanboys with white earbuds soon, as Apple gets ready to open an Apple Store in the Louvre following the official approval of the project. Like the Regent Street store in London or the Fifth Avenue store in NYC, the Louvre store will be located in one of the busiest tourism spots in…