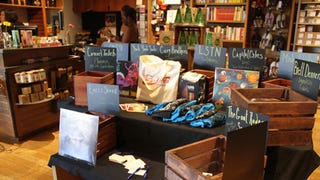 33⅓ rpm records have been around for 65 years and in that time they've come and gone. And come back again. Apparently the nation's few remaining record stores, stamped out by lack of demand, are suddenly not enough, so Whole Foods has begun selling vinyl at five locations in and around LA, including West Hollywood,…
Only a year after being the first person to successfully demo a working television set in 1926, John Logie Baird dreamed up something called Phonovision. What was its purpose? To record television. On a record.
It doesn't get much more raw than the Sex Pistols. Unless it's the Sex Pistols on vinyl. Or rather, the Sex Pistols on a record player powered by a homemade steam engine. Yeah, that's raw. And surprisingly squeaky!
This candy apple Sophie Madeleine limited edition LP is just oozing with style that no one can digitize. [Sophie Madeleine via boingboing]
Gizmodo '79 is a week-long celebration of gadgets and geekdom 30 years ago, as the analog age gave way to the digital, and most of our favorite toys were just being born.
If the featureless wasteland of the lunar surface made your last trip there a navigation nightmare, don't feel bad. You're not the only one. With no landmarks to give them perspective or to help estimate distance, astronauts in years past had a hard time finding their way around too. But when NASA establishes a…
We've known Furutech to build some crazy home theater accessories like the DeMag, so it doesn't surprise us that they also make the DFV-1, a vinyl LP flattener that relies on precision heating and cooling to get the job done. For $1,480, it might be overkill for repairing my now unplayable Christmas in the Stars Star…
Where will we see these ubiquitous Swarovski crystals next? The Swiss bauble maker may have gone too far in its quest to encrust the entire world in its tiny pieces of precision-cut glass, where now there's Vinyl Killer, a little VW Microbus covered with the shiny stuff, and its needle underneath makes contact with…