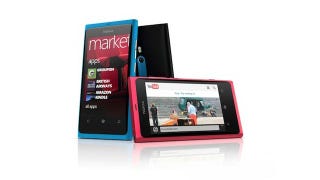 Nokia's told us that it is, in fact, bringing the Lumia 800 to the US on Valentine's Day as part of a bundle in the Microsoft Store. First reported by the Verge, the bundle will apparently be $900. Though Nokia wouldn't confirm the price, it did say that for now the bundle will be the only way for US customers to get…
So I've been using a Lumia 800 for a few weeks now, and mostly I'm loving it. Two big problems though—both battery-related: 1) Once you get a bunch of live-updated, location-aware apps, the battery goes to shit.
Windows Phone has been sort of a ship without a port for a while now, getting along as a platform without a must-have, lightning-rod handset. Nokia's Lumia 800 is the first serious contender for that honor, but Mango's knight in shining polycarbonate might not be enough to make its presence felt across the pond.
How much will the single-core processor of Nokia's Lumia 800 affect real world speeds? Well judging from these browser speed tests that SlashGear ran against the top Android and iOS phones, it's noticably slower.
Nokia just announced two gosh darn attractive Windows Phone handsets. The first "true" Windows Phones, the company says—and makes a pretty convincing case that they are. But rather than making everyone hot and bothered, Lumia seems to be leaving people cold. Here's why that's wrong.
Nokia's purdy new Windows Phones may be exactly what the platform needs to get a foothold in the US and abroad. But there's a chance we may never see the Lumia 800 or 710 stateside. Wait, what?