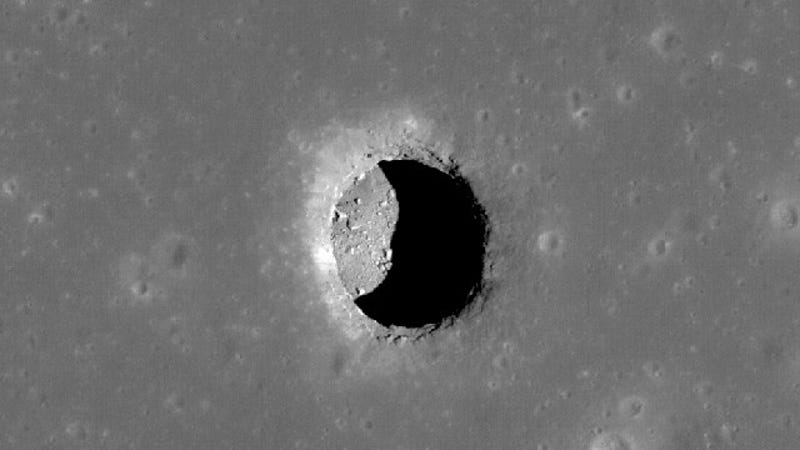 What you're looking at here is not an impact crater. It's a large hole on the Moon's surface that formed when the ground above a lava tube collapsed. NASA believes these pits widen underground and contain tunnels — which would be very handy for the first wave of lunar colonists.
Just one day after being declared officially dead, Jade Rabbit has suddenly sprung back to life, transmitting a downlink signal to mission controllers back home on Earth. But while the rover may not be completely lost, it's still not clear if it's functional enough to continue the mission.
Three years ago, Japanese researchers discovered a cavern on the moon using the SELENE satellite. It's estimated that the subterranean structure is 65 meters wide and at least 80 meters in depth. Given that it's too deep to be a crater, and that it was likely carved by lava, it's a natural cavern that's just begging…
Here's the "underdog" electric-powered rocket that just may conquer the Moon and win Google's $30 million Lunar X Prize. The Lunatrex rocket uses a slow-but-steady approach, taking months instead of days to reach the Moon.
39 years ago today, the world let loose a collective sigh of relief, as the Apollo 13 Odyssey Command Module splashed down in the Pacific Ocean. This followed a tense week, as the world watched after an on-board explosion nearly cost the lives of astronauts Jim Lovell, Jack Swigert and Fred Haise on the way to the…
Those were the words of Charlie Duke, the Lunar Module Pilot for Apollo 16, which launched 37 years ago today.
It's been a decade since NASA's Lunar Prospector satellite gave tantalizing hints—in the form of unexpectedly sparkly reflections—that the Moon's poles may have frozen water at or near the surface, but new data from a Japanese satellite looks like it's quashed the rumor. Kaguya's been in space since late last year,…