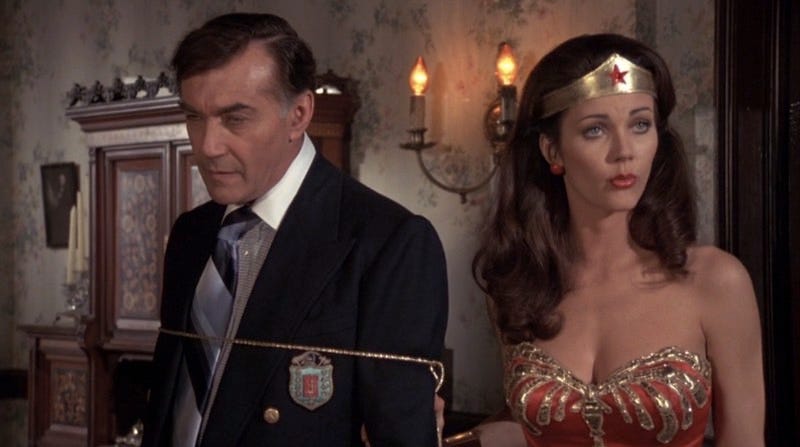 When Lynda Carter's Wonder Woman appeared on TV from 1975-1979, her hair was perfect, her superpowers always prevailed, and her sense of justice never wavered. Every episode followed basically the same outline—stop some would-be villain's nefarious plot—but the specifics of government agent Diana Prince's cases were…
Here's a version of Batman v Superman: Dawn Of Justice that I'd enjoy watching. Someone went and set footage from the Adam West, George Reeves and Lynda Carter Batman, Superman and Wonder Woman shows and it works wonderfully.
Warner Brothers announced yesterday that they're making a new Wonder Woman TV series. Sure, she'll have the lasso, the bracelets, and (hopefully) the invisible jet, but will she have the power to skateboard like a champ?
Must-see TV shows are futuristic classics that shouldn't be missed. Of course, not every must-see is perfect. That's why we've rated them 1-5 on the patented "crunchy goodness" scale.

Title: Wonder Woman
Date: 1975-1979

Vitals: An Amazon from an all-woman island paradise travels to America to fight Nazis — and then…