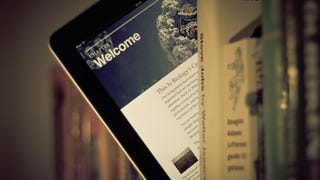 Anything's possible when people club together—just look at the UK riots as a really bad example of that. Class-action law firm Hagens Berman's seeking more plaintiffs for its lawsuit against Apple and five publishers over illegal ebook price-fixing.
Several publishers now set their own price for Kindle books, not Amazon. Which often means pricier than what Amazon was charging. And now Amazon says they're adding sales tax on any book where the publisher sets the price.
A rumored peek at bestsellers on Apple's iBooks reveals that the $9.99 ebook is very much alive, suggesting Apple does some pricing flexibility with bestsellers, and books that publishers sell for less than the average $26 hardcover price.
Textbook publisher Macmillan is hip the ways of the internet, see! They're rolling out a new product/concept/news item called DynamicBooks, which lets instructors change the content of online textbooks, even if they didn't write them. And why not?
Amazon is still sleeping on Macmillan's couch, but at least they're talking again. Rumor has it Amazon quietly started restocking hardcover and paperback copies of the publisher's books—but not the eBook ones. Updated.
Amazon's restored the entire book catalog for Macmillan, the first publisher to play hard ball with them—and have its entire catalog promptly pulled from the site.
During media megaconglomorate News Corp's earnings call—which owns publisher HarperCollins—the Dark Lord Rupert Murdoch reveals, "We don't like the Amazon model of $9.99….we think it really devalues books and hurts all the retailers of hardcover books." Ruh roh.
Books published by Macmillan mysteriously poofed from Amazon yesterday. The reason, according to the NYT, is that Amazon is punishing the publisher for arguing that the price of Kindle books should go up to $15. This won't end well.