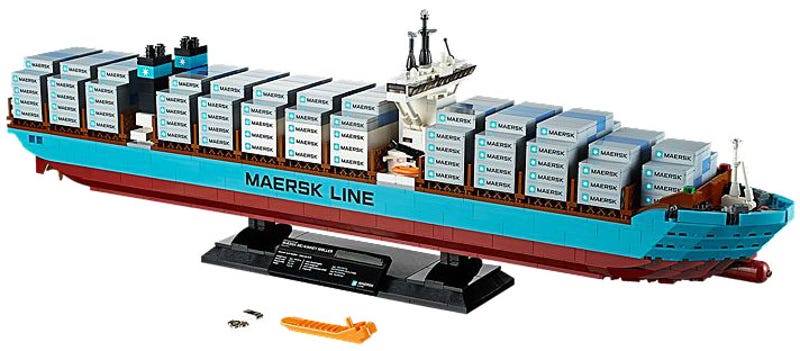 The Maersk Line Triple-E (10241) has been one of the hardest to get sets since its release in earlier this year. Constantly out of stock and on back-order, this 1518 piece set was obviously a very limited run. It is currently back in stock on Lego.com for $149.99 (limit 2).
Imagine you're in the middle of the Pacific ocean. Behind you is China, below you are thousands of tons of consumer goods destined for faraway ports, then stores, then maybe a spot beneath a Christmas tree. You are part of a vast economy that supplies the things we buy—a galaxy of cities, systems, and people that is…
Maersk's Triple-E line of supersized cargo ships are already among the largest sea-faring vessels to ever set sail. Now the Danish shipping group can add another feather to its cap with the successful transport of more than 17,600 TEU containers. No other ship has ever carried that much on a single trip.
Modern international trade is only possible because of our fleets of seafaring cargo ships. And as these gigantic vessels continue to grow to meet the increasing demands of a rapidly globalizing marketplace, so too do their components. Spanning nearly 34 feet in diameter and weighing a stout 113 tons, this massive…
With a capacity of more than 16,000 TEU (twenty-foot equivalent unit shipping containers) the CMA CGM Marco Polo currently reigns as the "world's largest container ship" but it won't for much longer. Construction of an even larger line of mega-ships—the Maersk Triple E—will soon be complete and, once launched, will…
Starting in 2013, the largest cargo ships in the world will be rolling off the assembly line and onto the water. Shipping and oil drilling company Maersk has just ordered the largest ship in the world to be built by Korea's Daewoo Shipbuiling and Marine Manufacturing. It will be a cargo ship that's 400 meters long, a…