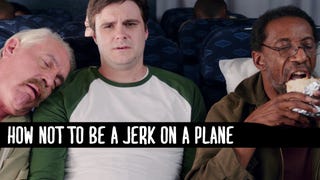 We've already taught you how to be a good person on an airplane, which is important, but now it's time to learn how to not be a total jerkoff on an airplane, which is arguably more important. This video briefs you on the basics: Don't stow your carry-on items sideways, keep your voice down, don't freak out, and most…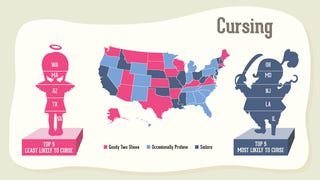 Ever wondered what the rudest state was? Wonder no longer! According to advertising firm Marchex, the sweariest state is Ohio and the least courteous is Wisconsin.
British comedian Russell Brand—who is generally quite obnoxious and rude himself—got rudely mistreated by the hosts of MSNBC's Morning Joe yesterday during an interview about his new American comedy tour. By the middle of it he had enough of their unpleasant manners and turned the tables. Worth watching.
The stat diggers at Pew dug up a new gem: in their nationally representative survey, "13% of cell owners pretended to be using their phone in order to avoid interacting with the people around them." This seems very, very low.
Frank Rybicki is an assistant professor in the Mass Media department at Valdosta State University. Last week, he was arrested for his behavior in class. For assault. What heinous crime led to his jailing?
Nothing will make you look like more of an oaf than having horrible breath and being wasted. If you somehow aren't sure if either of those are the case after washing down a garlic-and-blue-cheese sandwich with a tall glass of straight bourbon, you should get the Etiquette Checker. Simply breathe into it to get a clear…