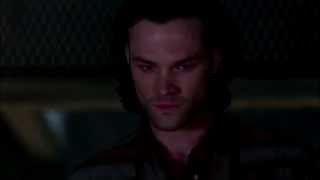 At times, Supernatural's ninth season has felt like a show groping for things it hasn't done before. (Sam already got addicted to demon blood and lost his soul, so why not have an angel possess him?) There have been odd decisions, like that attempted spin-off. But at least the season finale was a darn solid ending.
Syfy is apparently racing ahead at speed Standard by Six with its remake of Blake's 7, the classic British show about criminals who join a political prisoner to fight an evil space empire. This show will live and die based on the character of Avon, and there's one actor who's uniquely qualified to play him.
We caught up with actor Mark Sheppard at Comic Con, and he explained why Battlestar Galactica's Romo Lampkin really was a good guy — and why Romo's pet dog was the ancestor of all other dogs on Earth.
The Comic Con video of the "Doomsday Armageddon Apocalypse" table read is a poor substitute for getting the actual episode, but at least now you get to hear some of that fantastic dialogue coming out of the mouths of the actors, the way it was meant to. Our favorite moment: Manservant Neville (Mark Sheppard) growls,…
The Middleman, one of the greatest and craziest shows ever to bludgeon television with awesomeness, finally got the finale it deserves. The cast read the unaired finale script, and it was like the greatest rock concert ever.
Now that the news we posted about Dollhouse's mysterious Alpha is looking more like a rumor, Joss Whedon has let slip another crucial detail: the actor who plays Alpha may, himself, be a huge spoiler.
If you couldn't get enough of Romo Lampkin, the Blues Brothers-esque attorney who saved Gaius Baltar and hallucinated about his dead cat on Battlestar Galactica, then rejoice! Actor Mark Sheppard is playing the villainous Manservant Neville in the last two episodes of The Middleman season one, and he's also set to…