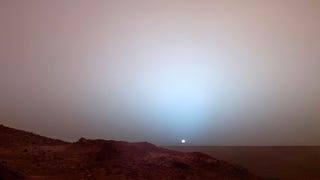 We've seen so many Mars images in recent years, our nearest neighbor might be starting to seem a tad familiar. Science fiction author John Updike aims to fix that, with some help from National Geographic.
The Mars Reconnaissance Orbiter (MRO), a satellite spinning over the surface of Mars, has revealed the tremendous variations in Martian geography. Here you can see slices of the bizarre surface features created by atmospheric conditions that don't exist on Earth. Want to see more? The textures above are colorized…
When summer hits the south pole on Mars, only half the ice on the pole melts. This leaves behind a strangely off-center chunk of water-and-carbon-dioxide ice, as you can see in this composite satellite image of the pole in summer. After analyzing climate data for several years, researchers have figured out what…
This deep gorge known as the Echus Chasma was ripped into the Martian soil by gushing water, and scientists speculate that it may once have boasted giant, 4000-meter-high waterfalls. This image, by the European Space Agency's Mars Express satellite, was released this week along with a few others. We've got an even…
This is one of NASA's proposed landing sites for the Mars Science Laboratory, which looks like a set of giant gaping jaws of evil. Do those look like teeth to anybody else? Actually, they're sand deposits resulting from wind activity, with the lighter parts being bedrock. The green and blue areas are full of iron- and…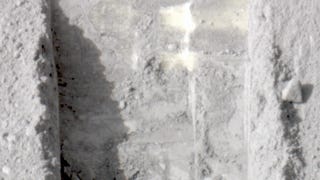 Remember that mystery white substance that the Phoenix Lander uncovered beneath Martian soil with its robot arms? Scientists were speculating that it might be salt or it might be ice. Now, a few days later, it's looking very much like ice. Why? It's melting, as you can see in these pictures.
The Phoenix Lander, our favorite robot chemistry lab on Mars, has successfully cooked up some soil in its oven to see if water evaporates from it when heated. So far, no dice. Though the Martian rovers Opportunity and Spirit have found evidence of evaporated water at the equator of the planet, Phoenix hasn't yet…
We've seen the astounding images of the Phoenix Lander that the HiRISE satellite camera sent from its bird's-eye view in Martian orbit. But what about the rest of the robot explorers on the Red Planet? There are five successful landers other than Phoenix and HiRISE has found those, too. Now the search is on for the…
The space blogosphere is rightfully abuzz over some jaw-dropping images the Mars Reconnaissance Orbiter's HiRISE camera has taken of the Phoenix Lander parachuting down to Mars (pictured) and then resting safely on the Martian surface along with its parachute and heat shield nearby (below).