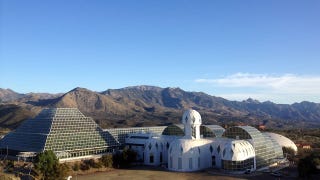 In 1991, four men and four women sealed the hatch on a 3.15-acre ecological ark located an hour north of Tucson, Arizona. They called the structure Biosphere 2 (Biosphere 1 being planet Earth, itself). Their scientific mission: to live inside their artificial ecosystem, removed from the rest of the world, for 24…
The very real six-man crew from the very real European Space Agency finally ended their very fake mission to Mars this afternoon. They've spent the past 18 months—520 days!—locked inside a fake space shuttle outside of Moscow as a simulation.
Space travel is a cramped and isolating endeavor, one that can weigh heavily on the mind of a spacefarer. How well we handle conditions like these over long periods of time is something we must consider more seriously in the years ahead, as humanity looks to venture deeper into space than we've ever been.
If I was one of these Mars500 crew members who spent over 250 days sitting in a room as part of a simulated journey to the red planet, and this was the best Fake Mars the European Space Agency could come up with, I'd be pissed. Keep in mind they have to go back in that room for another 200+ days after they finish…