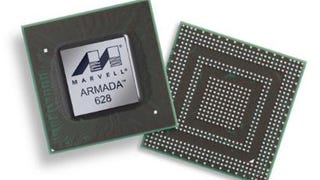 The smartphone guts race just got a bit more interesting—dark horse Marvell has just outed the first ever 1.5GHz ARM tri-core mobile processor. The Armada 628 pairs two high-performance cores with one optimized for low-power. Take that, Snapdragon.
Last December, One Laptop per Child's XO-3 tablet was an impossible dream: semi-flexible plastic, multitouch, sci-fi thinness, all for $75. And while a partnership with Marvell helps breathe life into XO-3, it won't resemble winter's fantasy device.
Marvell's ARMADA chips hope to power everything from Blu-ray players to ebooks to smartbooks to digital picture frames, but the most interesting are the 600 series smartphone chips with a strong claimed 3d performance.
After being dead for twenty-three years, Barry Allen completes his journey back to life in next week's The Flash: Rebirth. With death in comics long ago reduced to a minor inconvenience, who'll be resurrected next?
Asus is laying claim to the title for the fastest smartphone in the world, and there's little reason to doubt them. The news, though, is hollow: P565 with its 800MHz Marvell processor is objectively impressive, but underneath the oppressive, unflattering veil of Windows Mobile 6.1 it's not likely to blow anyone away.…
Adobe's Open Screen Project, which combines such companies like Nokia, Moto, Cisco, Sony Ericsson, Verizon, Qualcomm and Marvell, aims to make Flash more like Java. Namely, they want to make sure the platform Flash runs on is consistent, meaning developers can code once instead of many times. The project will try to…
After nearly a month of speculation over what (and from who) is in the iPhone, we finally know that ARM is indeed behind the iPhone's divine little brains. Yes, plural, as ARM's CEO confirmed that there are "at least three" cores developed by ARM inside the iPhone, according to InfomationWeek.