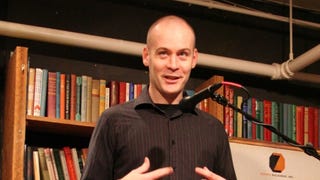 In September, the io9 book club read Max Barry's Lexicon. Today from 2:00-3:00 PDT, Barry is here all the way from Australia to chat with you! Ask him about Lexicon, or about self-publishing his novel Machine Man, or why Jennifer Government is the greatest government shutdown novel ever.
Welcome to the monthly meeting of the io9 Book Club. In September, we read Max Barry's Lexicon. Jump into comments to get started talking about it!
In September, the io9 Book Club is reading Max Barry's futuristic thriller Lexicon. We'll meet September 24 to discuss it, and we hope Barry will join us later that week for a chat!
There's only one thing we know for sure about the future: It'll be weird, and you can't really prepare for it. Just imagine trying to tell someone in 2000 how to prepare for life in 2011. But luckily, there's one surefire way to brace yourself for another round of future shock: by reading a slew of great satires,…
Max Barry blew our minds with his dystopian future novel Jennifer Government, and now he's back with Machine Man, a cyborg novel that he premiered in a different form on his website last year. Darren Aronofsky is already attached to direct the movie version.
Max Barry has been posting his weird improvised titanium-body-parts epic Machine Man on his website, a page at a time, and now a production company has optioned it. Mandalay Pictures will develop the story and then shop it to studios.
Max Barry's Jennifer Government was one of the most original and entertaining dystopian novels of the past decade, and now Barry is helping to reinvent publishing. Or at least, his bold experiment, Machine Man, seems to have paid off.