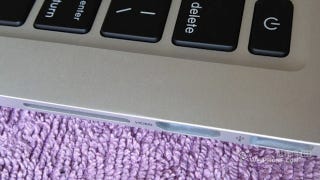 It's always best not to put too much stock in the old familiar "supply chain sources," but 9to5Mac knows a guy who knows a guy who has confirmed what we've always thought about Apple's next MacBook Pros: They're going to be thin, fast, and gorgeous.
The Apple Store is currently closed for business. It is very unlikely that Apple could introduce the MacBook Pro 2012 overnight, especially when everything indicates that it would be a heavily redesigned model. We will see what happens, but most probably it is some kind of routine database maintenance.
Holy crud. While it's just a benchmark test and those don't accurately reflect yadda yadda yadda YOU GUYS. The 1.7GHz Core i5 13-inch MBA just blew the door off of last year's 2.67GHz Core i7 17-inch MacBook Pro on GeekBench. And did more than twice as well as last year's tricked 13-inch Air. That is bonkers.
In all of the Apple announcements today, it would be easy to miss that the 15-inch MacBook Pro ($2,500 version) has gotten a processor bump from 2.53GHz to 2.66GHz, along with an upgrade option that now reaches 2.93GHz. That puts its base configuration on equal number crunching footing with the 17-inch MacBook Pro…
While Apple grandly updated their notebook line to the new unibody design, the 17-inch MacBook Pro, Apple's granddaddy of mobile computing, was left behind. Now, the 17-inch model joins its siblings—with promising bonus features.
Amazon is offering some last-gen MacBook Pros on the cheap. After discounts and rebates, you can score a 15" MBP with 256MB video card and 2GB of RAM for just $1,744.00—that's over $150 cheaper than Apple's clearance store was selling it for a few days ago. The 17" model with similar specs will run you $2,249.00.…
Remember the days of wallpaper illusions? Good. Because digitizing your child isn't the next Macbook feature. Steve Jobs hasn't lost control of his chief designer. The world is doomed (yet). [Optical Illusions]
Intel's latest and greatest mobile Penryn processors have (near positively) been leaked for the world to see. These new Core 2 Duo and Core 2 (Extreme!!!) processors are built on the 45nm scale (as opposed to 65nm architecture). Smaller, faster, cooler and all around better, they will most likely be officially…
We've already shown you the new MacBook Pro benchmarks, which show respectable improvements over the old model, not just because of the new Santa Rosa chipset, but Nvidia's new monster 8600M makes short work of 3D gaming. But what about the other features? How's the battery life? What's the deal on those LED screens?…
The new MacBook Pros based upon the Santa Rosa chipset have been benchmarked. The results? The new MacBook Pro consistently edged out the old quad-core PowerMac G5 w/Geforce 7300 GT video card, winning in 4 out of 5 tests.