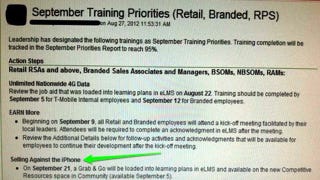 Last Friday, Samsung got punched in its collective corporate throat by Apple's legal team and a jury of its peers. Apple chief Tim Cook immediately celebrated... with a memo! Samsung's memo was less fun. Much less fun. But hopeful!
It's been almost five months since Asus showed off its Eee Pad Memo tablet at CES, but at Computex today they've announced that it'll actually be 3D when it goes on sale—no glasses required here.
AT&T just sent out an internal memo to its employees today limiting all iPhone purchases to one per customer—down from a previous three—and making everyone pay with credit cards or debit cards. Do they want to make their stock last until the 3G iPhone is out? Probably, since people who buy more than one are usually…
The chaps at BGR have received a leaked AT&T memo, which states the company will be offering refurbished iPhones for the lowly price of $199 (4GB) and $249 (8GB.) The refurbished iPhones will be made available with new contracts only, and are bound to sell as quickly as heavily discounted iPhones. Jump for the AT&T…
If you are the kind of person that has Post-it notes strewn all over your desk, this USB-powered lamp may help you cut through the clutter while simultaneously providing some colorful ambient lighting. Using the included pen, users can write notes on the base and simply wipe the message off when needed. Sure, it is…
One of our sources at AT&T has leaked to us an internal document; the memo details the process for obtaining a contract bundle without the obligatory 1 or 2-year commitment term. The basis for the non-commitment bundles is the customer must pay for the handset in full, losing the subsidized rate that is offered with…
When we first told you about the XtremeMac MicroMemo, it was due to ship in this Spring for $79.95, but now the company tells us it be shipping "this summer" for $59.95. It's designed for the iPod with video and lets you record 16-bit audio and 22kHz or 44kHz using its flexible mic.