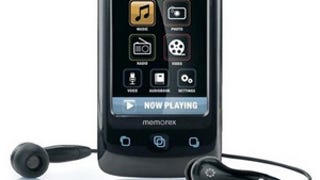 CNET got their hands on a Memorex TouchMP, an 8GB, $100 touchscreen PMP. And they really liked it. From the review:
Look, we'd like to think that if we didn't tell you about all of these fabulous tech deals, you'd just go on your merry way and save your cash. But we both know that isn't the case. So read on to score a $.98 version of Half-Life, a $100 external hard drive, or one of the many good buys that you see above. Or, you…
The galaxy of gimmicky karaoke machines was starting to fade before Memorex's SingStand came along. This baby organically melds mic stand and iPod dock, and at $70 doesn't even put you into debt to do so. The base is where the brains are—vox effects like reverb plus "Auto Voice Control" for removing original song…
The Memorex MVBD-2510 fills that getting-the-job-done-for-cheap niche, but Gizmodo readers should know we don't actually recommend it for purchase. It costs only $270, but sacrifices Profile 2.0 and the ethernet that accompanies it. So it's a pass, but a positive trend for the industry all the same. [prnewswire]
Memorex has a crazy (and expensive) new DVD-R line called SimpleSave, which automatically scans your computer for photos and videos and burns them to disc. From the description, these $14.99 for 5 discs sound like they're perfect for your parents or grandparents who don't really know how to use a burner and have…
Father's Day, anyone? Memorex has created this device for that technologically savvy money clip user. It is a flash drive that can also double as a money clip. It is available in capacities in up to 1GB and is available for $35 at Target stores. It may be a bit bulky for a money clip, but think of how impressed the…
This September Memorex plans to release a video player that connects to the 5G iPod with Video, giving users access to a much roomier screen without having to sacrifice their precious iPod. The 8.4-inch screen dwarf's the iPod's 2.5-inch and supports a resolution of 480 x 234 pixels. If, like Tim Allen, you need more…
Memorex isn't one for rushing things, since they're just now getting around to releasing World Cup themed USB drives when the World Cup is halfway over! We're guessing it was a manufacturing problem, since releasing these things when two of the countries are already eliminated is kind of putting salt on fresh wounds.
Gizmodo has a little secret to spill: we've acquired a time machine and gone forward 300 years so that we could do a hands-on test of these Memorex Pro Gold CD-R blanks (available in DVD-R, too) the company sent us via FedEx today. Our result? We had no way of knowing if the company's claim of a 300-year durability is…
Data storage manufacturer Imation has acquired Memorex for 330 million bones with additional payments of up to $45 million to come in the future. The deal should be completely sealed by the second quarter of 2006 and Imation expects an increase of $34 million annualized operating income. Memorex has been around…
Memorex is shrinking. The new Mini Traveldrive portable storage device is about an inch shorter than the original Traveldrive, comes in a prettier platinum color (in case you're dying for something to match your purse) and holds up to 2GB of storage for $179.99. Includes SecureTD with password protection, and is…