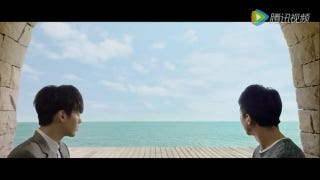 Sorry, Episode VII. The biggest box office smash in Chinese history is The Mermaid, the latest film from Stephen Chow (Shaolin Soccer). An environmentalist tale with a harsh message about humans exploiting the oceans and mistreating other life forms, The Mermaid has made an estimated $431 million in two weeks.
Renee Nault's lovely watercolor mermaid paintings often depict full underwater scenes, showing off not just her mythological creatures, but also the real life creatures swimming and growing beneath the surface.
The notion of the inverted mermaid usually comes up as something of a joke, Hannah Yata's gorgeous and grotesque paintings give us lovely ladies with fish for heads while evoking mythology, Renaissance era painting, and beauty and monstrosity of the natural world. Artful nudity and fish vomit below.
Cats rule their humans in Yasmine Surovec's crazy-eyed webcomic Cat vs. Human, and it seems mermaids are not immune to their aloof charms. In her retelling of The Little Mermaid, a young mermaid wants to pet a cat and seeks the aid of the Sea Witch to become a cat cuddling human. Naturally, it doesn't go well.
David Foster Wallace once wrote that "Every love story is a ghost story." Which sounds awfully pretentious, until you come across a book like Mark Siegel's graphic novel Sailor Twain, or The Mermaid in the Hudson and you realize just how intertwined the two genres really can be. It's a tale of lust, desire and lost…
Hayao Miyazaki's latest film Ponyo may be inspired by "The Little Mermaid," but amidst its stunning underwater scenes and raging storms, it's less a tale of romantic love than of strong, self-sufficient characters eager for new adventures.